Planet Fitness has a new machine in the Black Card Spa Area. But it's not a tanning booth: it's a red light therapy booth. The Beauty Angel, or Planet Fitness Total Body Enhancement.
What does this machine do? Does it work? And is it worth the membership for planet fitness, specifically the Black Card that provides access to the Total Body Enhancement machine? Or is this just another scheme to attract more people to become a member?
And what on earth is Red Light Therapy? And what is Red Light Therapy at Planet Fitness?
This article goes over all the details on Red Light Therapy, and the Beauty Angel Total Body Enhancement system.
---
How Does Planet Fitness Total Body Enhancement Work?
Planet Fitness is one of the most popular gyms in the nation, with a great attitude and friendly, non-judgmental ethos. It's a great place for people who want to lose some weight or improve the tone of their body. Planet Fitness requires membership at different levels. In return, you get access to various exercise equipment, free fitness training, HydroMassage chairs, tanning beds, and their red light therapy booth.
The red light therapy booth, known as the Beauty Angel, is a relatively new addition to PF's line. It looks very similar to a tanning booth, but the similarities stop there. Instead of UV lights, it makes use of infra-red lights that target the whole body.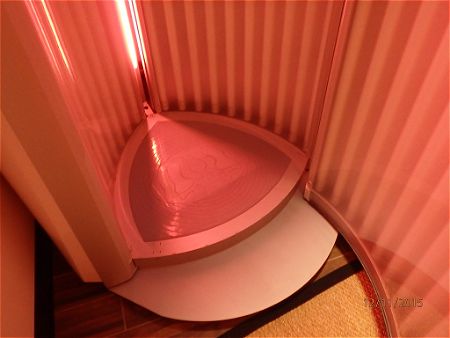 A study about low-level laser light therapy says that the mitochondria within the skin cells produce more adenosine triphosphate or ATP when exposed to red light. ATP is the energy source of the cells. With more of it, better cellular activity is possible.
This function of red light therapy is why there are red light machines that are used for rejuvenation, especially for the skin cells. It is commonly used for various cosmetic issues such as wrinkles and stretch marks.
The Beauty Angel booth also has a vibrating plate that provides a training effect for the body. There are different programs available and suitable for beginners and pros. The vibrations would provide physiological training for the muscles of the legs, back, and abdomen.
Optional music also plays in the booth to make it a more relaxing experience. The combined technologies help in burning calories, preventing cellulite, improving circulation  Daily use of this device in combination with exercise and proper nutrition eventually leads to weight loss and a more toned body.
---
Benefits of Light Therapy
Red light therapy is also known as photobiomodulation, laser light therapy, and low-level light therapy. Its use is still quite a controversial topic but many researchers and aestheticians are convinced about how effective it is and find the benefits of light therapy to be quite compelling.
There are many light therapy devices targeting beauty on the market for home and salon use. These include the Tria Age-Defying Laser (Reviewed here), the DPL-II Light Therapy Panel (Reviewed here), and the LightStim for Acne (Reviewed here).
There is light therapy for acne, light therapy for rosacea, light therapy for wrinkles, etc. Each one uses a different set of wavelengths to target specific issues.
Red light therapy, in general, offers many benefits such as the following:
Effective Pain Reduction
A clinical trial, which lasted for two years, about patients undergoing infrared light treatments for oral mucositis, was conducted. It was concluded that the chance for improvement in pain wast at a high rate of 96 percent.
In a separate study, the effectiveness of low-level laser therapy or LLLT with regards to adult pain due to musculoskeletal disorders was also tested. They concluded that it can effectively reduce pain in adult patients.
Enhances Wound Healing
Many studies about red light therapy conclude that it does help in faster wound healing as well as tissue repair. It was specifically found to be of great help with skin wounds and other skin conditions. A study concluded that it doesn't only stimulate healing but also reduces inflammation, reduces deaths of cells, and rejuvenates the skin.
Reverses Signs Of Aging
Red light therapy may be most famous for reversing or slowing down signs of aging. Damaged skin due to UV light from tanning beds or the sun can increase the rate of skin aging and produce fine lines and wrinkles.
A study on the effects of red light therapy on photodamaged skin reveals that there were thicker collagen fibers and the skin was softer and smoother. The was also an improvement in the appearance of wrinkles.
Improved Joint Health
Due to red light therapy's capability to stimulate collagen production, there are now studies testing its application on rheumatoid arthritis patients. In separate studies, it has been concluded that red light therapy can relieve pain for those with rheumatoid arthritis and Achilles tendinitis.
Reduces Body Fatigue And Depression
Another benefit of using red light therapy is its effectiveness in helping out with depression and fatigue. It is similar to acupuncture wherein the energy within the cells is stimulated. This helps improve the mood, reduce anxiety, have mental clarity, stay calm and be more positive. This is similar to what is found using Happy Lights (aka SAD lights) and Light Therapy Glasses.
---
What Is The Beauty Angel?
With all the benefits of red light therapy, Beauty Angel, a brand under the JK Group company, used the technology to create the red therapy booth seen at Planet Fitness. The company has already been in the business for decades and they work with the latest technologies to provide innovative products.
The spiffy machine you find at Planet Fitness gym is likely the Beauty Angel RVT 30. It combines two technologies in one unit to help the body look and feel great. The two technologies are red light therapy and vibration technology. To go for a therapy session, you go inside the booth for about 12 minutes before or after your workout.
So what are the benefits of using Planet Fitness Total Body Enhancement machine? Why would you want to switch to red light therapy treatments?
The red light therapy machine at Planet Fitness is placed there for a reason. It is a great tool that aids in our workout routines.  The vibrating action of the plates, combined with the red light therapy helps in the production of ATP (adenosine triphosphate) or energy for the cells.
With more energy for the cells, it can feel like your ready for even the toughest workout session.
Similarly, the red light therapy machine at Planet Fitness also helps after the workout as support for muscle recovery. It helps with the possible joint pain and it can also help lessen inflammation.
If your still not convinced about switching to red light therapy treatments, here are even more reasons to help you change your mind:
Supports Burning of Fat
When the body has more energy to do the workout due to the effects of the red light therapy machine, the body can endure more intense workouts. Instead of just sticking to low-intensity workouts, it can now handle higher intensity workouts to burn more calories and fat.
Helps In Muscle Growth
Aside from burning fat, the added energy can also help with muscle growth. As muscles are used, they also become more prominent. Even if you don't prefer high-intensity cardio exercises and prefer strengthening exercises, the added energy still helps. It helps you push yourself further to finish your entire workout session.
Overall Good Feeling at the Gym
Even after completing the workout, it's possible to feel energetic. Whether that's the result of the red light therapy before your workout or because you re-energized with the red light therapy after your workout, that energy boost helps you feel better.
It gives you a good feeling because of having more than enough energy to do other physical activities throughout the day. This can also lead to even more burning of calories and fat.
---
Total Body Enhancement Pros and Cons
With everything that has been said, it's perfectly normal to be curious about the new Planet Fitness Total Body Enhancement machine. But before you make up your mind about it, here are some pros and cons that you should know:
Pros:
Short therapy session (12 minutes)
Works the muscles on the arms, legs, glutes, and abdomen
Improves complexion
Makes skin more elastic
Makes skin smoother
Speeds up metabolism
Improves blood circulation
Helps relieve stress
Cons:
Only Available For Black Card Membership Holders
Weight limit of 300 lbs
Not for pregnant women, those under medication, or those with pacemakers.
Not for those who had a recent surgery
---
What are the Side Effects of Red Light Therapy?
The use of red light therapy is generally safe and reports of side effects due to it are rare. Although rare, they can still happen. Knowing these will help you determine whether what your feeling after your session is just a side effect or is something that you should worry about.
Side effects due to red light therapy are usually short-term and they are not that severe. The most common side effects users may experience are:
Headaches
Eyestrain
Irritability
These side effects are usually due to the glare of the red light. Some may not tolerate it well, while some may feel it is too intense. If you're concerned, it's best to use protective goggles like the ones used in tanning beds to protect the eyes from intense light.
The side effects due to the infrared light may be due to overheating. Infrared light is thermal and can cause a burn. But it's not the same burn that you get with UV lights in a tanning bed.
Overheating of the skin should also be avoided by distancing the self from the source or by carefully timing the session.
---
Should You Do Red Light Therapy Before or After Workout?
You can choose to have red light therapy before or after your workout. It's a matter of preference. Some do it before their workout to help themselves have more energy for their workout.
Others do it after the workout routine to feel re-energized.
You can try it both ways and see what works best for your circumstances, body type, and goals.
Do You Get a Tan with Red Light Therapy?
No. Red light therapy doesn't make you tan. Red light tanning is simply a coined term to describe basking in red light to remedy some issues with the skin like wrinkles. There is no UV light involved in red light therapy so the melanin isn't stimulated to increase.
Do You Need a Membership to Use Planet Fitness Light Therapy?
You need a Black Card Membership at Planet Fitness gym to use their Black Card Spa area. However, you can bring a guest with you each time if you have a Black Card Membership, so if you have a friend with a Black Card, they should be able to get you in to let you try the Beauty Angel, Hydrotherapy, the other Black Card Spa perks.
---
Conclusion
The Planet Fitness Total Body Enhancement Beauty Angel is many people's first introduction to the world of light therapy. But this field is growing pretty quickly, with many new devices designed to improve beauty, delay aging, and improve health.
Planet Fitness' Red Light Therapy Device is a great entry into this world, and if you've got a Black Card membership, it's absolutely worth checking out. If you don't have a Black Card Membership, it's worth trying for a month or so to see if you like it!